$197 Sleep Program - Now FREE For A Limited Time To Help You Get The Sleep You're Craving
Feeling groggy in the morning and suffering from brain fog due to lack of quality sleep
Mood swings from feeling tired all the time
Tossing and turning all night because sleep just refuses to come to you
If you can say "yes" to any of the above, you're entitled to our $197 Sleep Program Grant!
This grant is available for the next 20 minutes only:
Please fill out your details on the right to qualify for your $197 Sleep Program Grant 👉
REGISTER BELOW FOR FREE ACCESS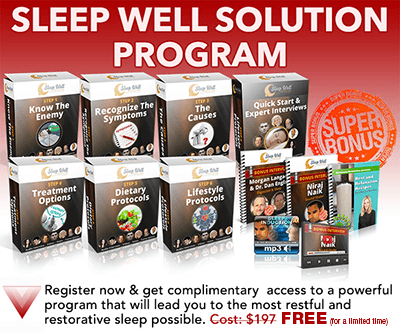 Secure Form
In the Sleep Well Solution Program, you'll discover:
Quick-fix Sleep Hacks & Secrets Revealed: If you wake up feeling tired and unmotivated…
Try this ancient Chinese secret that prescribes exactly what you should be doing between 11pm - 3am to get a perfect night's sleep!
Why this one food (that you've probably eaten already today) is public enemy #1 for sleep
Do THIS with your pillow first thing in the morning to make sure your body feels well-rested and energized for the entire day.
Bonus: Dr. Dan Engle - 6-time Medical Director and guest speaker on top interviews like Tim Ferriss, Joe Rogan, Ben Greenfield, Dr. Mercola and more - reveals how one specific organ in your body may be the hidden culprit of sleepless nights!
The consequences of poor sleep are extreme!
Your mind is foggy and unfocused, you go through the day with low energy, and your relationships suffer because you aren't fully present.

Cravings control you and you can't manage your weight.

Your overall health is slowly deteriorating, you're feeling a strong need for a solution.

Maybe you can relate to the above?

Without proper sleep no other health tactic will work. Not diet, not exercise, not meditation.

It's no accident you're here, let's fix this problem!
Now YOU TOO Can Experience Our 6-Step Sleep Reset... In The Comfort Of Your Own Home
Free Of Charge!
(for a limited time)
If you think about it, you'll agree, that if you continue on this way things will deteriorate even further and the consequences are dire.
We don't want this for you, that's why we are inviting a select few people to register for our Sleep Well Solution Program free of charge...
... And this is the one and only time you'll have a chance to get access to this $197 program… for Free.
Why Are We Giving The Program Away?
We're on a mission to help 1,000,000 people sleep better and since starting another business that is doing well we decided to take this program that we were selling for $197 and gift it to you.
There's no catch, simply register and get immediate access.
We carefully crafted this program to quickly and easily understand why you aren't getting the rest you need.
Our 7 sleep experts lay out specific protocols guaranteed to get you sleeping through the night and waking up feeling rested and ready to take on the day.
This Page Will Expire In:
NOW, FOR A LIMITED TIME GET COMPLIMENTARY ACCESS TO: The Sleep Well Solution Program
Quickly and easily "dial in" your sleep patterns under the loving guidance of 7 sleep experts, find and dissolve your top 5 "sleep blocks," and create a complete plan that allows you to finally take control of your life… ALL while experiencing the most blissful, rejuvenating sleep cycles each and every night.
Here's What You Can Expect In The Program... Let's Unbox It Together!
⭐️ Why sleep is MUCH MORE important than you think!

You'll understand where your current "sleep blocks" are, and where your lack of energy may be stemming from (you'll be surprised).

You'll be guided through a gentle, 360 degree examination through the lenses of our Neurochemist, Nutritionist, Sleep Cognition Researcher, Holistic Health Practitioner, Ayurvedic Practitioner, & our Licensed Naturopath.

$32 Value
FREE – if eligible for SWS program grant!

🤔 Are your symptoms sleep related?

Your body is sending you signals, are you listening?

If you are, do you know what they mean?

Discover the actual symptoms of sleep deprivation. Some are obvious, some are not and these insights are crucial.

You'll leave step two with an important new found awareness. Now, feeling more confident and clear, we can move on to…

$32 Value
FREE – if eligible for SWS program grant!

😳 Here's why you can't sleep!

Why it's crucial to nourish the Yin side of our energy flow at night… what happens to testosterone when you can't sleep… how to learn to recognize your "performance cliff"… the number one enemy of sleep (hint: you've probably eaten it once already today)… and why specific technology around your house may be the culprit.

You'll feel a surge of new hope and awareness at the end of day three, along with several "aha" moments! Now, you're prepped for your total treatment to begin…

$32 Value
FREE – if eligible for SWS program grant!
😴 Sleep hacks and secrets revealed!

The surprising truth about how the hours of sunrise and sunset affect our energy, the perfect time to rise (or retire) for maximum motivation… how many milligrams of Potassium Glucanate you should be taking per day… and an ancient Chinese secret that prescribes exactly what your body needs to be doing between the hours of 11pm and 3am in order to awaken refreshed and renewed every single morning.

These four days combined will leave you both stunned and exhilarated – ready for day 5.

$32 Value
FREE – if eligible for SWS program grant!

🥗 Eat this and sleep better!

Let our experts reveal the ultimate dietary secrets to sleeping and working at ultimate capacity! We'll really get down to "brass tacks" today and help you lay out some things you can change right now (without spending an arm and a leg). You'll find out whether you should be eating more warm or cold foods… the reason Melatonin may not be helping you sleep better… and a natural substance that can end "racing mind" syndrome at just a gram or a gram ½ dosage. Then…

$32 Value
FREE – if eligible for SWS program grant!

🧘‍♂️ Learn habits of restorative, healthy sleepers

What many describe as the most enjoyable part of the whole experience: You'll sit back and learn how to keep your life in balance – by dialing in our "lifestyle protocols."

Including… the 5 things to avoid doing before bed… what to do with a pillow first thing in the morning to attune your body for the rest of the day… why you shouldn't sleep with a light on (it has to do with cortisol production)… and specific activities you can do during the DAY that will affect your sleep at night! Now I want you to remember…

$32 Value
FREE – if eligible for SWS program grant!
Because Your Sleep AND Your Entire Quality Of Life Are At Stake Here Today, We Also Added 3 Bonuses To Help You Sleep Better...
Maybe you're starting to see why we sold this program for $197. A lot of work went into distilling the expertise of our 7 sleep experts and giving you immediate actionable steps to getting the sleep your body is screaming for.
Sadly, we can only keep this program complimentary for a limited time and when the timer hits zero, this page will disappear forever.
© Sleep Well Solution™ 2019 – Helping You Get The Sleep You Need.